Lion's Head
Includes Tobermory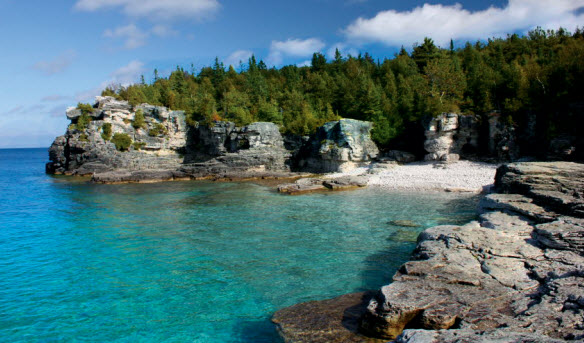 ABOUT LION'S HEAD
Lion's Head is a peaceful port village, surrounded by beautiful limestone cliffs resembling the head of a lion. Tobermory is known as the "fresh water SCUBA diving capital of the world" because of the numerous shipwrecks that lie in the surrounding waters. Tourism plays a large role in the economy for these towns; Flowerpot Island and coastal cliffs are among the many beautiful tourist attractions for the community. Over 3,000 visitors travel to Lion's Head during the summer month. Approximately 8,000 divers visit the shipwrecks in Tobermory every year.
HIGHLIGHTS
There are many places to see and plenty of things to do on the Bruce Peninsula. Tobermory is a perfect spot for anglers, boaters and sailors. Hike to the edge of the escarpment on Gun Pointe route for a perfect view of Georgian Bay. Tobermory has many beaches, and offers diving, hiking, kayaking and golfing. Art lovers would appreciate the breathtaking scenery.
HEALTHCARE
There are 25 staff and four physicians at Lion's Head site od the  Grey Bruce Health Services hospital system. There is high seasonal volume in the Emergency Department, which offers 24/7 emergency care, acute care, pre-school speech therapy, diabetes, education, laboratory, x-ray, physioheraphy and hyperbaric medicine.
The Peninsula Family Health Team is a primary healthcare team that includes family physicians, nurses, nurse practitioners, a social worker and a Community Care Access Centre (CCAC) case manager as well as other healthcare providers and agencies.
Hamilton: 295km
London: 300km
Sudbury: 448km
Kingston: 539km
Ottawa: 728km
Toronto: 296km
Level of Service: Primary Care
Number of Beds: 4
Catchment: 12,000
Referral Sites: Guelph, London, Kitchener-Waterloo, Owen Sound
Learner Parking: Free
Population: (Lion's Head): 517 (Bruce Peninsula) 3,744
Median Age: 53.9
About The Rural Ontario Medical Program (ROMP)
The Rural Ontario Medical Program (ROMP) places medical students & residents into core and elective rotations in rural regions across Ontario.