ROMP has been organizing medical students and residents in Ontario by arranging core and elective medical rotations since 1988.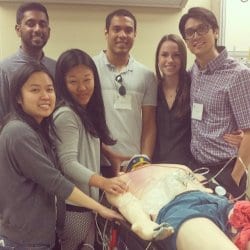 There is a need for physicians in every area of the world, particularly in rural locations. With the Rural Ontario Medical Program (ROMP), we are here to ease the burdens caused by the nation-wide physician distribution problem by arranging core and elective medical rotations for medical students in Ontario.
Our Vision
Our mission is to be the partner of choice for inspiring the next generation of healthcare professionals in rural Ontario.
How Our Program Works
With ROMP, we do more than just place learners in rural settings to practice medicine. We also:
Set-up credentialing and secure hospital privileges, so learners get hands-on learning experiences
Provide information about the lifestyle and community where learning opportunities exist
Assist learners with the cost of travelling and accommodation in some cases
Look after administrative procedures, so preceptors can focus on teaching
To find out more about our program, what it entails, and what opportunities are available, call us today.
---
Dr. Peter Wells
A true passion for rural family medicine education was the impetus that inspired Dr. Peter Wells to form the Rural Ontario Medical Program (ROMP) in 1988. He has had a vision for many years of making a difference in people's lives by enhancing and enriching the available healthcare systems in rural communities.
Dr. Wells has been blessed to have a long, fruitful career, working at his own medical practice in Collingwood and in emergency medicine at the Collingwood General & Marine Hospital. He continues to practice family medicine and obstetrics to this day and is the collaborative physician at Wahta and Horseshoe Nursing Station. He also currently serves as an assistant clinical professor at the University of Toronto and a continuing medical education facilitator and assistant clinical professor at McMaster University. Moreover, his career and practice includes coroner work, OR, ER, surgery, and dermatology, to name a few areas in his scope of practice.
When not serving his patients or mentoring ROMP learners, Dr. Wells loves to create wood habitats for animals and tries to spend as much time as he can at the family cottage in Georgian Bay.
---
Dr. Neil Lamont
Dr. Neil Lamont is a regional director with the Rural Ontario Medical Program (ROMP). From 1998 until 2009, he held the position of Chief of the Division of General Surgery. Dr. Lamont is also the Co-President of the Medical Staff representing Grey Bruce Health Services physicians practicing in Owen Sound. Dr. Lamont currently practices general surgery, vascular surgery, and therapeutic endoscopy.
---
Dr. Merrilee Brown
Dr. Merrilee Brown is a comprehensive family physician who has lived and worked in Port Perry with her husband Steve and 2 teenaged children for the past 20 years. She delivers babies, works in the ER, and does hospital inpatient and consultative palliative care.
She is an award-winning teacher of family medicine for UofT, Queens and NOSM.
She loves a good book, a good hike with her dog, skiing with her family and cooking for large numbers of people. She plays French horn in two local bands and sings in a chamber choir.
---