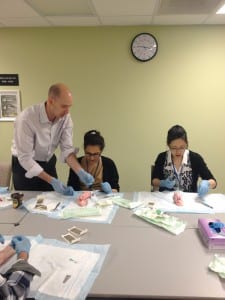 If you desire to become a preceptor through the Rural Ontario Medical Program (ROMP), you must first submit our teaching application. This application requires you to provide basic information about yourself and your practice. Some key pieces of information needed in this application include:
Your name, address, practice address, and other contact information
Where you went to medical school and your current medical specialty
Information about your practice, such as how many patients you see every day
If you participate in any other teaching programs
Why you desire to teach
An updated Curriculum Vitae must also be submitted with this application. Although your CV should include some of the basic information provided in your teaching application, we would also like to learn more about your professional activities through this document. For example, this portion of your application should include information regarding any research funding you have received within the past five years, publications you have been included in, what professional organizations you are a part of, and your specific areas of interest as a medical professional.
By becoming a preceptor, you will be given the opportunity to guide and instruct tomorrow's medical professionals, expose students to medicine in rural Ontario areas, and ultimately help medical students develop the critical skills they need to succeed. In addition to these advantages, we also provide a $250 weekly stipend to compensate you for your efforts in this admirable cause.